How to Build Furniture from Pallets
Getting Creative with a Saw
---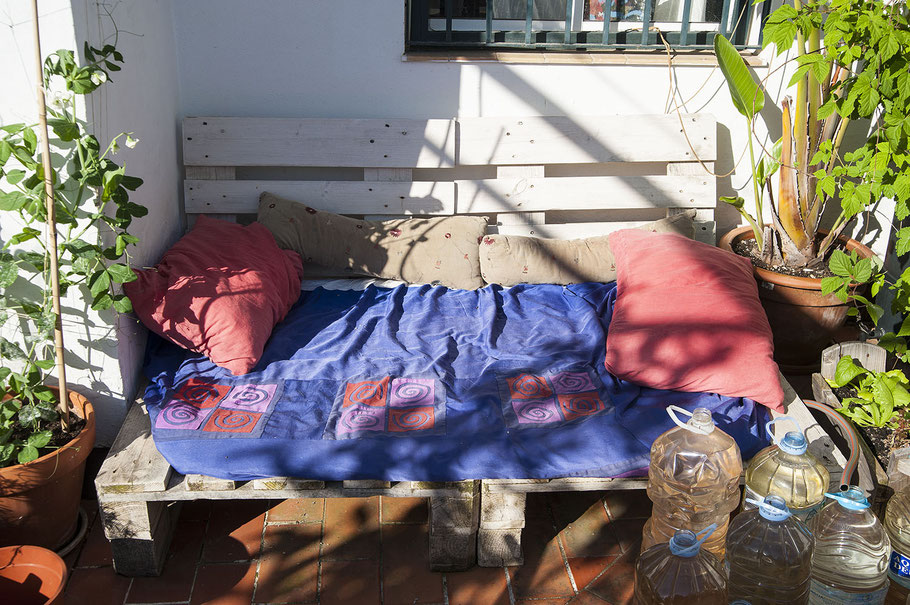 This week I want to talk about how to build furniture out of wooden pallets and at the same time take some steps to becoming more sustainable. The increased reuse of anything, and also the purchase of any second hand goods for that matter, continues to create an encouraging cultural paradigm shift in the way we approach the consumption of materials. Pallets have become quite common place in our interior design nowadays, from the 'Robinson Crusoe' chic of hipster cafés to the makeshift garden roof chill-out zone – the latter being my kind of project. So here's hopefully some inspiration for some pallet creativity.
Wood suitable for making anything is expensive and a builder's ´thumbnail' test at the local DIY store will prove most available softwood from such outlets, such as pine and douglas fir, is indeed quite soft and not very durable. The wood is often cut from young trees and is fast kiln-dried to get it on the shelves. Pallet wood may or may not be sourced from a sustainable source – we can't know this as our new carpentry material may have travelled far – but it is normally quite tough stuff. Digressing, I am often weirdly possessed by a kopfkino (head cinema), imagining what great travels and adventures a pallet may have had. Maybe cat food was transported around the world or tins of tuna, I will never know. They would have definitely already served a purpose and by using them we are not consuming new materials, which is the important point. Incidentally, if you do have to buy new wood (even if sourced within the EU), look for Forest Stewardship Council (FSC) or Programme for the Endorsement of Forestry Certification (PEFC) logo stamps, both organisations helping to ensure the wood comes from sustainable sources.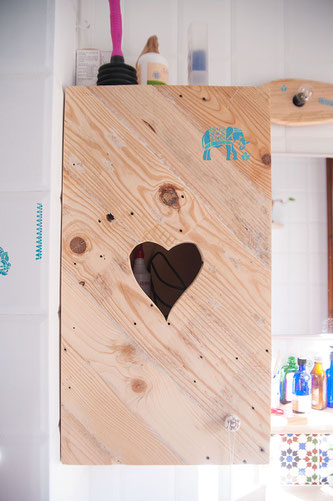 So the common EUR/EPAL pallet is 120 × 80 × 14cm, weighs approximately 24kg, and with a required load capacity of 1500kg, the wood comes with a certain robustness that will survive a few knocks and being left outside. Most are made out of a better quality softwood (pine), if not a bit rough sawn, although in some countries the use of oak is also common. The latter will blunt your saw quickly, but will certainly satisfy one of the core tenets of sustainability and last a good while. The wood used is often required to be quite clean, as pallets are mostly used within the food and pharmaceutical industry. However, it is really important to check the treatment of the wood before you bring it anywhere near your home. The International Plant Protection Convention stamp will show that the wood is either Heat Treated (HT), Kiln Dried (KD), Debarked (DB), or Methyl Bromide (MB) treated. In Europe it is not allowed to treat them with Methyl Bromide, in the US it is. The latter is a potent pesticide linked to many human health problems (also ozone layer depletion) and is an absolute no. The others are fine to use.
There are different ways to get pallets. Simon and I found some on the street leaning against a dumpster. As soon as we find one we carry it home, the next idea for some needed furniture follows always soon. You can also ask in DIY shops and here in Seville we even found a huge warehouse selling pallets of different quality for as little as 6-8 Euros. So with pallet in hand (or two as they are damn heavy), the work must begin with breaking them up into their components parts without splitting the pieces. Crowbar, hammer and old screwdriver (for making a gap for the bar) and a good deal of gusto, banging and careful prising will see the thing in whole pieces with the least amount of swearing. But maaaaaaaannnn some of these beasts are really tough. You can do yourself a favour by selecting a pallet where the end of the nails are not turned over or you will otherwise need to bend the buried ends straight to pull the nails out. These long shank nails are tough, be patient – you will need to get them all out for proper finishing and particularly if you are going to build something for outside use (rusting). Asking someone strong to help you is definitely a clever idea to avoid disappointment when you are in a creative mood, but can't get the damn thing apart. The internal blocks are useful if you have a fireplace, but the pallets with particleboard blocks are easier to break up. The latter pieces however are not waterproof or very useful (don't burn them), so take them for recycling.
I would count myself as having quite rudimentary carpentry skills and lots of determination to turn my wild ideas into reality. Armed with for the most part just a hand saw, we have created various functional furniture including a breakfast table, chill-out seats for the terrace, a bathroom cupboard and an office desk. I also suggest to ask your neighbours or friends to help you out with some tools or expertise as a sharing community is more sustainable. Nobody needs all types of tools and also it is much more fun to be creative together. Of course with some patience, creativity and know-how you can even build quite sophisticated pieces. A carpenter would call the wood straight off the pallet as 'rough sawn' and if you want to create some fine joinery it will need to be 'planed'. But there is a certain rustic and functional quality about pallet furniture that is somehow appealing – it looks good not being perfect.
We have also built some fantastic grow boxes for the permaculture project, but am going to save that for a whole separate story…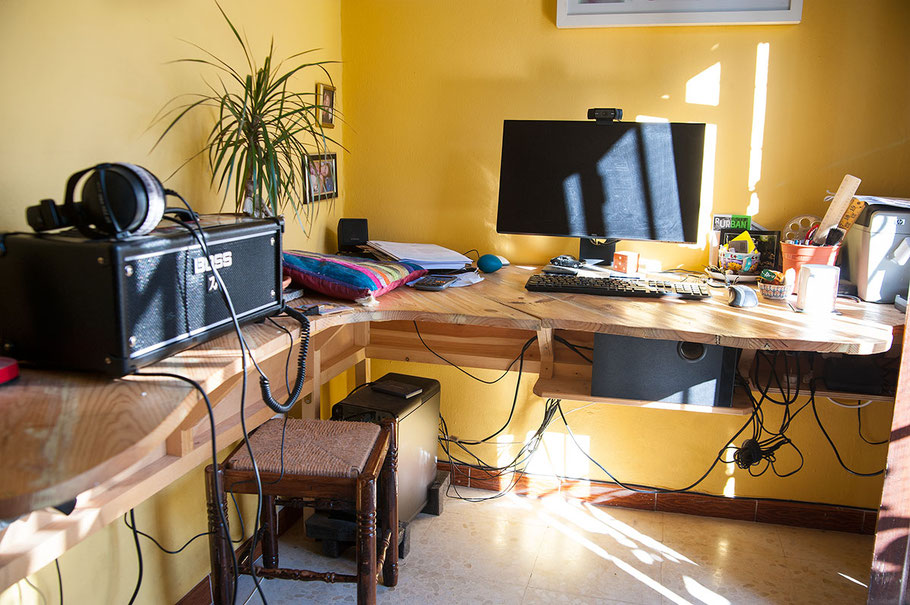 ---