Magic White Powder - Bicarbonat of Soda
Natural Deodorant and Other Clever Applications
---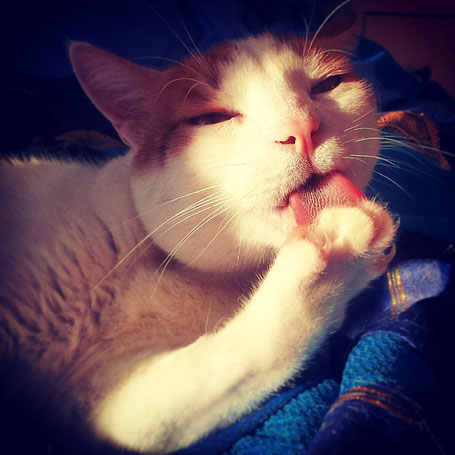 One of the best life hacks I have found was from a friend a few years ago recommending the use of bicarbonate of soda as a substitute for modern cosmetic deodorants. I have been using it now for five years and it's just fab, so let me share with you this simple way to save some money, create less waste and stop harming your skin with cosmetics.
That unpleasant smell we all try so very hard to exclude from our lives is produced by bacteria on the skin that breaks down the acids in your sweat. After puberty, the apocrine sweat glands develop which produce sweat that bacteria can quickly break down, creating a sudden adolescent outgassing that is the worry of many teenagers. Many cosmetic deodorants are scented to mask this smell, and whilst many of us have chosen a deodorant from its smell, its interaction with our personal sweat 'signature' can be unpredictable or sometimes ineffective. There is also quite a toxic mix that we insist on putting under our arms that we are blissfully unaware of, with many deos containing aluminium which acts to block our pores and prevent us from sweating. Aluminium exposure has been linked with the development of Alzheimer's disease and interferes with oestrogen levels, the latter being connected to a higher risk of breast and prostate cancer. Amongst other noxious ingredients are a pesticide (seriously) called triclosan and propylene glycol, these being readily absorbed by the body and known to damage the central nervous system, heart and liver. With some 'eco-look' packaging and nice comforting touches like 'clean' or 'fresh', one can easily ignore the possibility of exposing yourself to harmful chemicals over a long period, particularly if you are brand faithful as many people are with deodorants. The skin is our largest organ and, whilst it protects us well from our everyday external environment, it has the capacity to readily absorb or accumulate contact chemicals – one of my home rules I try to live by is, "If you can't eat it, don't put it on your skin!"
So shock tactics out of the way, we come to the wonders of bicarbonate of soda (NaHCO3) or natron as we know it in German. Bicarb is extracted from the mineral natron to produce a fine white powder that is totally inert to the human body, unless consumed in large amounts. As a deodorant it is able to neutralise acids in sweat limiting the growth of odour producing bacteria, as well as absorbing moisture. It is also quite commonly used in other personal hygiene products such as toothpastes and soaps, and there is a long list of many medical uses. We also put it in the cat toilets, in shoes, and mix it with vinegar to produce an eco-cleaning product for the house. Its use for all these things and more was quite well known until the end of the 1970s, but we have become increasingly susceptible to endless advertisements whispering in our ears of things that are better for us – not.
You don't need to go and buy designer products that contain bicarb – you just need the powder, the more finely ground the better. I sometimes buy from the UK brand Doves Farm (for 'home baking'), and the 200g container costs ₤2.99 (3,50€) and lasts for a whole year of highly effective personal odour control. The hot southern European climate and an active lifestyle have proved to be a harsh testing ground for this consumer review, so you can take my recommendation as being well researched! So wet you finger after washing and dab a bit on in the right places and that's it. You have chosen the most effective way of 24H odour control that has no harmful effects on your body, no staining, no testing on animals and no impact on the environment.
Health benefits aside, reducing our plastic waste and recycling are, or should be, global concerns for us all. Without sourcing any accurate statistics, let us imagine the mountain of deodorant tubes created by say half the population of Germany (approximately 40 million) using one tube every two months. That would be 240 million tubes a year! It's a wildly approximate number, but you get the point. Most deodorant tubes are made from combinations of polyethylene and polypropylene, and many have a dial on their base from a different plastic polymer than the rest of the container. This makes them quite difficult to recycle as their components have to be first separated, sorted and the leftover gunk cleaned out (nice work). You would certainly do the planet a favour by getting bicarbed rather than rolled-on!
Incidentally baking soda solution is very effective at neutralising tear gas and washing out radioactive fall-out, just in case you get caught up in any more serious trouble than bad smelling parts…
---