Permaculture Hacks
---
 "Whatever can happen to a garden can happen to a soul and psyche – too much water, too little water, infestations, heat, storm, flood, invasion, miracles, dying back, coming back, boon, healing, blossoming, bounty, beauty […]. In the garden one is moving with rather than against the inhalations and the exhalations of greater wild Nature."
 Clarissa Pinkola Estés, Women Who Run with the Wolves
"What are you harvesting this week?" is a question that friends, neighbours and family members who know about my garden project, ask me frequently. My answers vary between raspberries, peas, beans, ginger, lemons, lettuce, turmeric, tomatoes, cucumbers, strawberries, rhubarb, herbs, spinach, cauliflower, broccoli, zucchini and more – the list is long. This is followed by lots of "aahs" and "oohs" and then proclamations about how much they wish to do the same, followed by millions of reasons preventing them from doing so. Feeding ourselves is a basic need and instinct, and growing food yourself is intriguing to many. Believe me, my day has also only 24 hours and I'm not more gifted than anyone else in growing food. My advice is to just start!!!! I will share with you some of the hacks I have discovered from my urban rooftop permaculture project. As you can see from the short video tour, we have been taken over by verdant nature in the last two years, well as much as my fantasy allows, as there is little space left for anything else (says Simon, hahaha)!
Permaculture or rather 'permanent agriculture' is a concept of agricultural design that is based around observing and reacting to natural ecosystems in an effort to encourage the project to become sustainable and self-sufficient, without the use of pesticides. We perhaps associate such projects to be placed in a more rural setting, but it is quite possible to apply much of the thinking in an urban environment – so welcome to my rooftop permaculture garden!
---
We have two small terraces, at the front and back of the house, and both have different ambient conditions that vary seasonally. The front terrace has an easterly aspect and the surrounding urban landscape is more open, so there is quite a lot of sun in the mornings and there is more movement of air – breezes from the river reach us easily. The back terrace is partially covered and we have a taller building at the rear of the house, so it receives direct sunlight for about six months of the year and it gets far less air circulation. These factors have become quite important in refining the best conditions for certain plants. For example, locating tomatoes where there is more movement of air, decreases the chance of fungal blight and wilts attacking them. The key to the success of any permaculture venture is observation and some experimentation with shadow, sun, water and companion plants to try and find a balanced ecosystem for one's particular environment. The idea of active participation becomes crucial – the concept of constant maintenance and change – so here are a few tips that may assist.
Light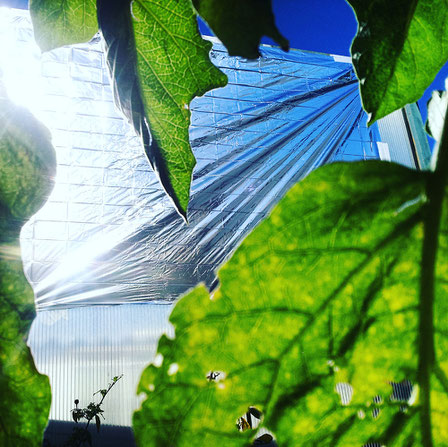 The southern European climate provides quite a long growing season, but we found that the low sun in the winter kept a lot of the space in the shade for some months. So I built some [rudimentary] reflectors (being a photographer comes in quite handy here ;-)) that illuminate some of the shady areas and have boosted the life of quite a lot of the plants. Some rescue or space blankets from the camping shop mounted on boards and discretely orientated and hung on other plants to catch the low morning sun made quite a difference. The reflectors survive the rainy days and get put away in the summer, although one is mindful of the use of plastic here, so reuse here is important. Don't become a single-use plastic person!
Shade

The sun in Seville will burn a hole in your head in August, and a day of direct summer sun and 45 degrees will cook some of the plants in their pots, literally. Active participation here is quite important – we installed a retracting canopy called a toldo that gets rolled out over the front terrace before midday and then rolled in again early evening so the plants can get some sun. The smaller rear terrace has a simple homemade triangular fabric canopy that partially covers the whole area. As the sun moves, it catches most of the plants through the gaps directly for only short periods of the day.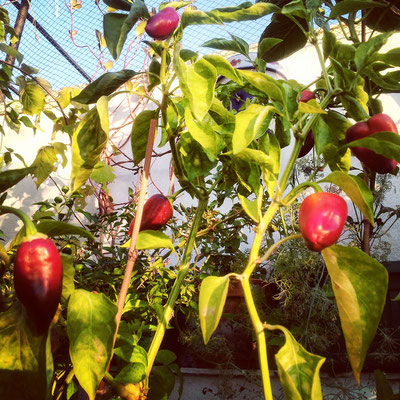 Pollination
Plants can pollinate themselves, by wind or insects, so it is good to know which ones may need some help. In our island of urban green, we have to remind ourselves that there is not such an abundance of roaming bees for example, or for that matter unfortunately anywhere today. So I had to learn how to become a bee (or rather Queen Bee!), after unsuccessfully trying to grow pumpkins and zucchinis last season. This year I have two remote plants of each (front and back terrace), that I have pollinated with a fine brush – male flower of Plant 1 to female flower of Plant 2, and vice versa. A resounding success with prize winning zucchinis gigantes and now Hokkaido pumpkins are merrily on their way. To digress slightly, a more ominous example of such practices is in south west China where the use of pesticides have eradicated bee populations and workers now hand pollinate whole apple and pear orchards. An enormous demand on labour and resources – a stark reminder that we should pay more attention to how we grow things.
Variety
Like us humans, plants enjoy company or rather they appreciate neighbourly 'companion plants'. Certain plants attract certain pests, but particular aromatic herbs repel such visitors. For example, our cucumbers seemed quite appealing to the silverleaf whitefly, but by planting lots of mint nearby their numbers seem to have dwindled. We have also planted lots of thyme, lemon balm, basil and sage all over and I believe it really helps. Plus we have plenty of spicy flavour for the kitchen! In the first year, I used an organic soap pesticide spray quite frequently, last year quite a bit less and hopefully this summer season not. On the subject of other pests, slugs get thrown in the compost and do their work in there and make a nice buffet for the blackbirds.
Water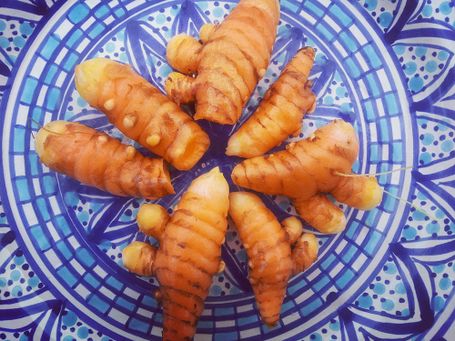 Last year Seville had eight months of no rain. The rain that does come in the spring often comes in sudden torrential downpours, so there is no consistent period of watering for the plants. Rainwater harvesting has been quite essential in us trying to survive for about four or five months of the year without consuming large amounts of tap water. We have three water butts that collect in total 300L in a few hours of proper rain and we then store some of this water in old plastic water containers when possible (we don't need to keep it long) to let the butts fill up again. In Andalusia, there is quite a shortage of water from lack of capacity in the land – monoculture has stripped the land bear of natural forest, so it is good to be aware of one's own water consumption. Unchlorinated rainwater is anyway also better for the plants.
Every garden, even in the same city, will require a different environmental equilibrium. Observing the variations and climatic conditions in one's garden can really make a permaculture project quite viable in an urban situation. But it takes some energy, it takes participation. So I wish you happy growing!
---