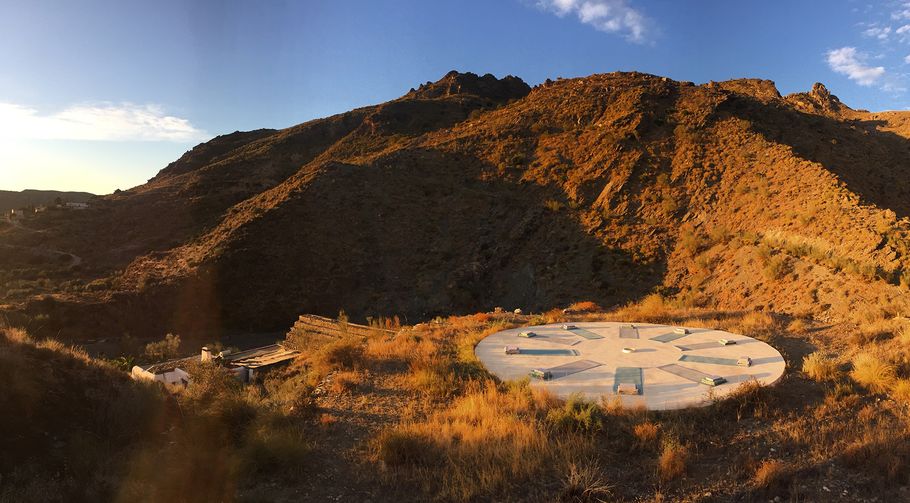 This enchanting space is perfect for an intimate retreat in nature, where the participant number is limited to a maximum of nine women. The empowering practice circle with its natural energetic qualities is a perfect haven to do circle work and create close connections and community. This unique space connects us with the elements and the rhythm of nature, taking us back to a natural and healthy biorhythm.
Immerse yourself in healing sounds, get carried away on a soft cloud of healing vibrations from big powerful gongs, gentle wind chimes and soothing tones of Tibetan singing bowls. The retreat will offer a lovingly curated mix of meditation and pranayama (breath exercises), sound journeys and rituals. Also, we will use our own voices – our most powerful instrument – with special healing voice techniques. I will introduce you to Ecstatic/Conscious Dance and other embodied movement practices. After these seven days, you will leave feeling blissfully relaxed, but also equipped with new knowledge of how to introduce various techniques into your daily life to help yourself and let go of stress. In this retreat, I will share with you my vast experience and knowledge from over 20 years of studying and facilitating various techniques of spiritual and integral life practice.
---
Mill.Space is an intimate venue based in a unique watermill located in the spectacular UNESCO registered Cabo de Gata National Park, Almeria, Spain. The ancient 500 years old watermill has been lovingly restored in keeping with its original Moorish design. The extraordinary building is complimented with rounded walls and wooden beams, traditional cane ceilings, a cave room, studded doors and intricate mosaics based on those found in the Alhambra. The mill has been tastefully renovated, using many ecological materials. There are shaded and quiet spots for reading or contemplation, with hammocks and low seating dotted around the garden. Lounge by the swimming pool and absorb the sun, or simply take some time out to have a siesta.
'The Circle' rests upon the original old wheat threshing circle, and is a unique outside space for our various sessions. The circle is located just behind the Mill, nestled by the mountains. The short trek up the winding stone path adds to the experience, like a small pilgrimage to a sacred place. There are expansive views down the valley to the Mediterranean. When the sun rises over the mountains we will meditate, do pranayama, chant or do a ritual to greet the new day and re-energise the soul. After our practice and back on the path down, you can stop off and take a wild swim in 'The Balsa' (a huge water holding). The Balsa is fed all year round with clean, pure water from an ancient natural underground spring. With this final ritual to cool and delight you, it's certain you will feel truly awakened and cleansed. The moon cycle and starry skies give way to practices where some evenings the sky is 'lit up' and perfect for sound healing, dancing and star gazing. Supported by the elements of nature, it will be a magical and powerful experience.
Find the exact location HERE (Molino Del Canarico, Canarico, Carboneras, 04149 Almeria, Andalusia, Spain)
---
Sound Healing: During the retreat, you will receive sound healing in the form of a gong bath and a shamanic sound journey. You will learn to use your own voice for relaxation, connection with your heart space and self-healing. Tibetan singing bowls and gongs, being rich in overtones, create sound waves in the body that provide relaxation on a physical, mental and emotional level. Each of us has probably experienced sound in all the ways it affects us. When we listen to music, we often have a physical and/or emotional reaction. Sound can deeply touch us and suddenly makes us laugh or cry. We are also familiar with the effects of disturbing sounds or noise like highways or planes. Sound waves are vibrations of molecules, and these vibrations echo through our bodies. During a sound journey, these pleasant vibrations transfer into our body and propagate in concentric waves and help us to get in tune again, literally. Healing sounds, including our voice, can help alleviate energy blockages and activate our body's own healing power.
Circle Work: We gather in circle to connect, do inner work and ritual, and renew our strength and inspiration. At the latest, when fire was discovered, people began to gather in a circle around it. It is an archetypal form of community. The gathering in a circle was used to answer questions, tell stories, discuss meaningful topics and exchange experiences. Working in a circle offers this very special quality, power and magic. A safe space is created to unleash creative power and set processes in motion. I will introduce you to a variety of transformative circle methods.
Meditation & Pranayama: We will use passive and active meditations techniques. Pranayama consists of techniques that calm the central nervous system and others that stimulate our life forces.
Ecstatic/Conscious Dance & other embodied movement practices: "Just as the ancients danced to call upon the spirits in nature, we too can dance to find the spirits within ourselves that have been long buried and forgotten.", said the influential dancer Anna Halprin, who redefined dance as a tool for healing. We dance for many reasons: to connect, to have fun, to express, to heal, to find something that we could call 'the dance', something deep inside that can't be described. It's a form of conscious dance, a movement meditation. You move your body freely, without having to follow any steps, always according to your needs of the moment. I guide you into the dance to support your journey into your body and into movement. You don't need any dancing skills or previous experence. It is an invitation to get in contact with yourself, embody your physical body and find your inner rhythm and dance.
+++ It is not a yoga retreat because I want this retreat to be as inclusive as possible, and sometimes the word 'yoga' scares people away as it might come with ideas of having to be flexible, slim and other wrong preconceptions that are pushed upon us by social media. But if there is interest, I will be happy to offer several yoga sessions as well. +++

---
On our first day, 30th September 2023, we will start with a welcome circle at 6 pm.
The daily schedule can look like that:
8 - 9 am morning practice (meditation, pranayama etc)
A dip into the natural pool
9:30 - 10:30 am Breakfast
Free time
1:30 - 2:30 pm Lunch
4 - 6 pm Circle Work or embodied movement
7 - 8 pm Dinner
8:30 - 10 pm Sound Healing
Our retreat starts with Full Moon, so we will do some special ritual at night.
+++ The program is not set in stone, as I rather like to adjust it according to the energy and needs of the group. Sometimes rest and silence can be more beneficial than any activity. +++
+++ We will also have some free time to visit the nearby beach (15 minutes by taxi) and enjoy the sea. +++
---
Studio: Double bed + single bed, en suite bathroom. Can host 2 or 3 people. 1060€ pp
Moroccan Room: Double bed, en suite bathroom. Single occupancy 1260€, double occupancy 1060€ pp
Caseta: 2 single beds, en suite bathroom. Single occupancy 1260€, double occupancy 1060€ pp

Blue Room: 3 single beds, shared bathroom. 999€ pp
Mosaic Room: 2 single beds, shared bathroom. 1035€ pp
Detailed information of all rooms can be found on HERE at Mill Space
+++++ EARLY BIRD PRICE TILL 31st MAY 2023 - 75€ OFF +++++
Prices include taxes, accommodation, all meals, all retreat activities, Wi-Fi and use of all facilities. You will enjoy three gourmet vegetarian meals per day, great spaces & props and have full access to all the beautiful common areas and facilities like the natural swimming pool.
Not included: transport to Mill Space, massages and other treatments, excursions, drinks and goodies from the shop.
---
Registration Form Retreat
Registration Goddesses Retreat Oct 2023.
Adobe Acrobat Dokument
122.4 KB
---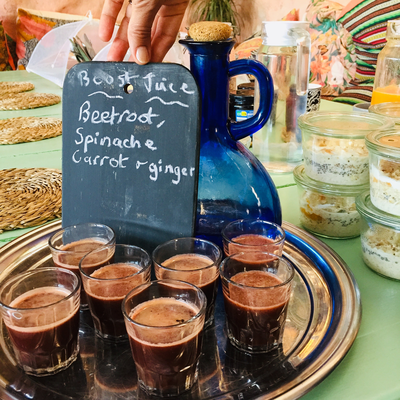 The food is based on vegetarian recipes with a nice mix of Mediterranean and Moroccan influences running through the menus and even some Ayurvedic cuisine (the 'sister science' of yoga) making the food simply heart-warming, nourishing and balancing to the system.
The menu can be adjusted to the preference of vegans, people with allergies and / or intolerances. Please let me know in advance if you have special preferences.
---
Animals are an integral part of the Mill and the local area. Here at the Mill they have two dogs, Yodi and Eena who are both rescue dogs.  Their cats, Rojo and Roly were rescued from a local ruin as kittens. Moshi and Shanti are Roly's children.
THINGS YOU SHOULD KNOW AND BRING:  Trainers/walking shoes for walks, grippy sandals for walking up to the circle and around the Mill as there are quite a few steps and different levels in and around the building. Please bring a wide necked reusable water bottle as mineral spring water is available and free for all guests. Also recommended are sun creams, sun hats, mosquito and insect repellent. I recommend bringing light
cotton clothes. Mill.Space encourages people to bring natural products and also provide their own lovely gels and shampoos. They have a small shop with travel essentials if you forget anything, so don't worry!
MONEY: I recommend you bring euros. You can pay for extras by Cash, Revolut, Paypal or Bizum. There are ATM's in the local towns.
HOUSE KEEPING: Rooms are cleaned during a one week stay, clean bed linen and towels can be provided on request. Any added laundry services can be arranged at an extra cost. All bathrooms will be checked daily and sanitary bins will be cleaned and changed once a day. Fresh drinking water in the rooms is provided every day. On-site low wattage iron or hairdryers available. All rooms will have a solar lamp and a mosquito net for each bed (if needed). All rooms are lockable. All rooms are supplied with a fan.
---
By air: Mill.Space is located 50 minutes drive from Almeria airport. If flying from UK usually Easy Jet, Ryanair, Jet2, Iberia/British airways fly regularly. Airport transfers (meet and greet) from the airport can be arranged by Mill.Space (minimum four people, prices starting at €20 pp one way). Travelling as a group together is encouraged to keep the cost down. There are lots of taxis at the airport and a hub of car hire options. You can get a bus from Almeria town centre and then a taxi from Carboneras, the local town or you may want to drive there if you are already
in Spain. On arrival, you will need to produce your passport or ID card and may need a visa if coming from the UK! Or any other non EU country.
By car: Mill.Space is located 15 minutes drive inland from Carboneras our local coastal town, or 30 minutes directly from the A7 highway, leaving at junction 494 (Venta del Pobre) heading south towards the coast.